Ajir Dainik Batori Newspaper Ad Options
Among top dailies in Assam

Credible news source
Low ad rates
Best print ads platform
Among top dailies in Assam

Credible news source
Low ad rates
Best print ads platform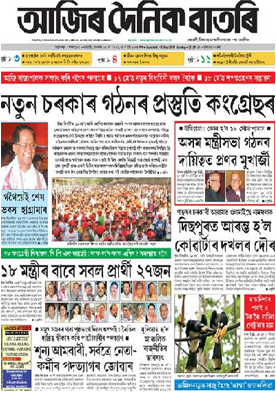 Category :
Main Newspaper
Publishing Day :
All Days
Ajir Dainik Batori is Assamese (অসমীয়া) Epaper of India region Asia. Ajir Dainik Batori is very popular in India and is being published from different cities of India. It is one of the most trusted Newspapers of India.
Ajir Dainik Batori -the popular Assamese regional daily meant for display advertising for all kinds of advertisements like Appointment, Retail, Property, Business and more!
---
CLASSIFIED
---
Category :
Classifieds Supplement
Publishing Day :
All Days
Ajir Dainik Batori Classified Ads is cost effective and ideal platform to advertise on for Matrimonial,Property,Obituary, Recruitment, Education,etc type customers. Ad cost is calculated based on the number of lines used.
Category :
Appointment
Publishing Day :
All Days
Category :
Court Notice
Publishing Day :
All Days
Category :
Obituary/ Remembrance
Publishing Day :
0
Category :
Tenders
Publishing Day :
All Days
Category :
Public Notice
Publishing Day :
All Days
F.A.Q
Frequently Asked Questions
There are different factors that contribute to the cost of booking an ad in Ajir Dainik Batori. The cost differs in terms of ad format you choose, the category of your choice and the number of editions you choose to publish. Classified text ads are charged per line whereas the display ads are charged on the basis of per square metre. Again the cost varies depending on the selection of page for a display ad. The advertising cost for Front Page, BackPage or Page3 is much more compared to other pages. To know more about the cost click on the link
here
.
Getting your ad published in Ajir Dainik Batori through our website is very quick and simple. Follow the steps below: Visit Ajir Dainik Batori page on our website. Select an appropriate category under which you want your ad to be published. It could be matrimonial,property, recruitment,business,obituary etc to name a few. Select a suitable ad format and location of your choice. Compose your ad by filling all the relevant details. Finally complete the booking process by selecting dates and making the payment. You can avail Multiple payment options that include credit cards, debit cards, net banking etc. All these payments are SSL encrypted and therefore completely secure. You can also pay offline via cheque or cash. On successful completion of your booking process an auto generated invoice is sent to your email-id confirming the Ajir Dainik Batori advertising details. Post editorial approval your ad gets published on the selected dates.
There are different advertising options available in newspaper You can book your ad under three Ad Formats: Classified Text- The text ads in newspapers are one of the most cost-effective option and are charged on the basis of words/lines or characters. The minimum charge for running an ad depends on the choice of edition. You can also use enhancements to your text ads by using color background,tick mark & border. Classified Display- Classified is another option that is a little expensive as they have a better visual representation. The ad format lets you insert logos and images in the ad content. They appear in columns and are charged per square centimeter. Display- Display ads have a higher visual impact in the minds of the readers. It offers more options in terms of ad sizes. You can select quarter page,half page, vertical or horizontal & front or back page depending on your budget.
The ad rates differ on the basis of the ad format, location and category you choose. Post selecting the category a complete list of ad rates appear based on the different locations and packages for classified text and display format. To know more click on the Ad Rates to have a detailed view of the cost of publishing it in different editions.
Newspaper advertisements can be designed under three different formats Classified Text Classified Display Display Classified Text Ad- Classified text is one of the simplest forms of ad which is designed by composing the ad in simple words. There is a word limit set for every category. Exceeding the limit will cost you for every additional word.You also choose to make your ad more impactful by choosing ad enhancements like color, background and tick. Classified Display- With classified display you can design your ad by inserting logos and pictures to make your ad visually attractive. You can select a single column or multi-column depending on the ad size you wish your ad to be published. These are charged on the basis of per square centimeters. You can select any pre-designed template to compose your ad. Our platform also offers the opportunity to upload your designed ad by choosing the file,selecting the ad size and color. Display Ad- Display ads gives you the freedom to publish your ad on any page of the newspaper. You can create an ad by selecting a predesigned template,upload your existing design. You can also take creative help from a team of expert if you are struggling to design your ad.
Reasons
Why advertise in Ajir Dainik Batori ?
For driving the best results for your display ads in Assam, choose display advertising in Ajir Dainik Batori. We at releaseMyAd, strive to offer our customers with the easiest and quickest newspaper ad booking solution, online. Through the integrated booking system of our portal you can release your display ads in the main pages of Ajir Dainik Batori, under any category.
Ajir Dainik Batori is a very popular Assamese language daily of the North-Eastern zone and it accepts display ads for different categories such as Appointment, Retail, Business, Real Estate or Property and even Obituary. You can even release Public Notices and Tender advertisements in the preferred pages of Ajir Dainik Batori.
In this newspaper, you can choose to advertise in the front/back/third/any page as per your preference and budget. You can even specify the requirement of your ad's position in the newspaper page selected by you.
With Ajir Dainik Batori display advertising you can be rest assured to reach out to your target audience in the state of Assam and its surrounding areas.
View Ajir Dainik Batori Ad Rates
View Ajir Dainik Batori Ad Rates
---
Booking Process
Ajir Dainik Batori Ad Booking Process
ReleaseMyAd provides you with instant booking facilities for display advertising in Ajir Dainik Batori . As a long standing , official ad booking agency for Ajir Dainik Batori , we give you a trustworthy and hassle-free platform for booking your newspaper display ad online in the following simple steps:
Firstly, make your selection of the main newspaper or any of its category specific pullouts alongwith the desired location for your Ajir Dainik Batori display advertisement.
Next you can choose the ad size: Quarter, Half , Full or Custom ; ad type: Colour or Black & White and Ad Position: Front , Back , Third or Any page. Ajir Dainik Batori also allows you to explore innovative advertising through Jacketed, Pointers and Skybus display ads.
Once you specify your needs, you can view the Advt Cost and Package rates.Not Only this, releaseMyAd makes use of its experience and expertise to get you further discounts.You simply have to click on the 'Start Media Negotiation' tab , fill in your display ad requirements and leave the rest to us.
You can then proceed towards composing your ad by choosing from our existing ad templates simply uploading your advertisement design in PDF/JPEG/TIFF format. You can also avail expert help and feedback from our designing team.
All that's left to do now is clear the payment via our several offline or online channels that are SSL encrypted and therefore 100% secure. You receive instant confirmation of your display ad booking once payment is done.
Remember to book your display ad in Ajir Dainik Batori at least 3 days prior to the print date.
For any further assistance in your display ad booking process do not hesitate to contact us via phone, mail or chat with our customer service experts anytime.