Welcome to Ajir Dainik Batori Newspaper Ad Booking Portal. Use this portal to book any Newspaper Ad instantly online for Matrimonial, Property, Recruitment, Public Notice at the lowest rates. Pay via Credit Cards, Debit Cards, UPI, Net Banking or Cheque.
Worried about getting contacts, rates, deadlines and manual booking procedures for your Ajir Dainik Batori classified ads? Your search ends here- Now you can book newspaper classified text and display ads via releaseMyAd - India's largest newspaper ad booking portal. Just 3 simple steps and your ad is booked for the scheduled date.You can avail the best rates and discount packages for your Ajir Dainik Batori classified ads only at releaseMyAd. Get started !
---
Ad Formats In Ajir Dainik Batori :
Ad Type
---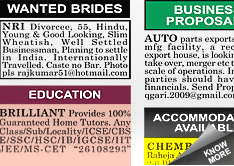 There are two types of classified ad such as Classified Text Ad and Classified Display Ad. Classified Text Ad is the most cost-effective forms of advertising in any Newspaper. The Ads appear in the classified section in the standard running text format. Rate is charged per Line/Word/Character basis. Enhancements like tick mark, colour, bold font, border lead to extra charges. Classified Display Ad is more visually appealing than classified text ads. Here one can add customized font, colour, logo or image to make the ad visually more effective for the target readers. These ads are charged on the basis of per sq.
Display advertisements are the most extravagant form of newspaper advertising. They can be published on any page and can occupy any amount of space in a specific newspaper page.
---
Ajir Dainik Batori Ad Booking Centers :
LOCATIONS
---
Why advertise in Ajir Dainik Batori Newspaper ?
---
WHY ADVERTISE IN
Ajir Dainik Batori

NEWSPAPER?
---
Ajir Dianik Batori is an Assamese daily started in 2004. The newspaper is published from Guwahati, Sivasagar, Dibrugarh, Silchar and Lakhimpur. In spite of being a regional language, Ajir Danik Batori has editions from all over India. The newspaper is thoroughly admired by the people of Assam because the sparkle it has brought in its columns. Local, National as well as World news gets equal prominence in Ajir Dainik Batori.
Why Advertise in Ajir Dainik Batori?
Ajir Dainik Batori is circulated in every corner of the Assam, far reaching in the total north east.
It is an ideal newspaper for any small scale company, as the rates for publishing the ads are reasonably priced.
It publishes all kinds of advertisements thereby giving an opportunity to create high brand awareness.
Ajir Dainik Batoriaccepts all types of newspaper advertisements like Text ads, Classified Display Ads as well as Display ads for various categories. These categories may vary from Announcements and Education to Public Notice and Tender ads. Business, Retail and Obituary Ads get regularly published in the newspaper.
While booking an advertisement in Ajir Dainik Batori through releaseMyAd, you, being our client will be provided with an attractive discount and combo packages without any extra cost.
View Ajir Dainik Batori Ad Rates for :
ADVERTISEMENT RATE
---
---
How To Book An Ad Ajir Dainik Batori Newspaper?
---
HOW TO BOOK AD IN
Ajir Dainik Batori

NEWSPAPER?
---
Simple steps to Publish your Advertisements in Ajir Dainik Batori
Select your Ad Type as Classified Text or Display Classified or only Display to proceed to choose the category under which you want your ad to appear
Compose your advertisement with the help of our online enhancements and verify it via our exclusive Live Preview Ad Feature
Lastly just choose the preferred Release Dates and proceed to clear the payments via our convenient online & offline mediums to receive instant confirmation.
You can either make the payment online, through Credit/ Debit Card modes and Net banking or you can simply go offline with the conventional modes of payment, such as Demand Drafts, Cheques and NEFT (Online Cash Transfer) or Cash Collection from home and offices.
Once you are done with the payment, you'll receive an invoice with all your ad booking and payment details. Your Ajir Dainik Batori advert is ready to be published on the specified date(s) once it passes through the editorial approval policies of the newspaper.
Along with booking your ads in Ajir Dainik Batori instantly, you can also check ad rates, circulation details along with attractive combo packages at releaseMyAd.
Having an experience of over 30 years, ReleaseMyAd is a trusted and authorized site for booking newspaper advertisements. We have been recognized and accredited by the Indian Newspaper Society (I.N.S) - the major and primary governing council for all media publications.
Advertise under Matrimonial, Property, Obituary, and Recruitment, Education or any other category in Ajir Dainik Batori under the following ad types or formats:
Classified Text Ads: The simplest form of newspaper classified advertising is text advertisements. They are simple run-on line which can be improved with the help of our online enhancement such as ticks, screen borders, background colours etc. These adverts are charged on the number of lines/characters/ words used in the content of the ad
Classified Display Ads: Display Classified ads, also known as column ads are a little more expensive than Text ads. These adverts can be further embellished by uploading images and logos and formatting font styles and sizes. Classified Display ads can be published in coloured as well as Black and White format. Not only can you compose your Classified Display ad online with our pre designed templates but you can also upload your personally designed advert.
Display Ads: Display ads are the most high-priced and detailed form of advertising. Such adverts have a great potential for every kind of creativity. Advertisers can upload the design of their advertisement in PDF/ JPEG/ EPS format and simply specify their requirements.
For any more details and queries about Ajir Dainik Batori and the booking of your advertisement, kindly visit the Frequently Asked Questions section or Question & Answer Forum.